Corradi
Known worldwide for Pergotenda®
Founded in 1978, Corradi became a leading Italian sun awning manufacturer after patenting Pergotenda® – a retractable, made-to-measure roof system that maximises the use of gardens and patios. As part of a bold expansion plan, the company added heating, lighting and furniture design to their core product range aiming to become a leading, all-in-one destination for high-end exterior design, in Italy and beyond.
Building a new culture
Becoming a premium brand was a huge shift for the company as it involved embracing a new approach to promoting, selling, manufacturing, packaging and shipping the products. As the in-house creative for Corradi, I led the rebrand and played a pivotal role in facilitating the company's transition from a functionality-focused family business into a design-led lifestyle brand, now serving over 50 countries worldwide.
Many thanks to Tiziano Campolmi and Gianluca Rossi who helped me shape the new vision, Annalisa Ventura (copy), Studio Cappelli and Giovanni De Sandre (photography), and Christian D'Aloisio (development).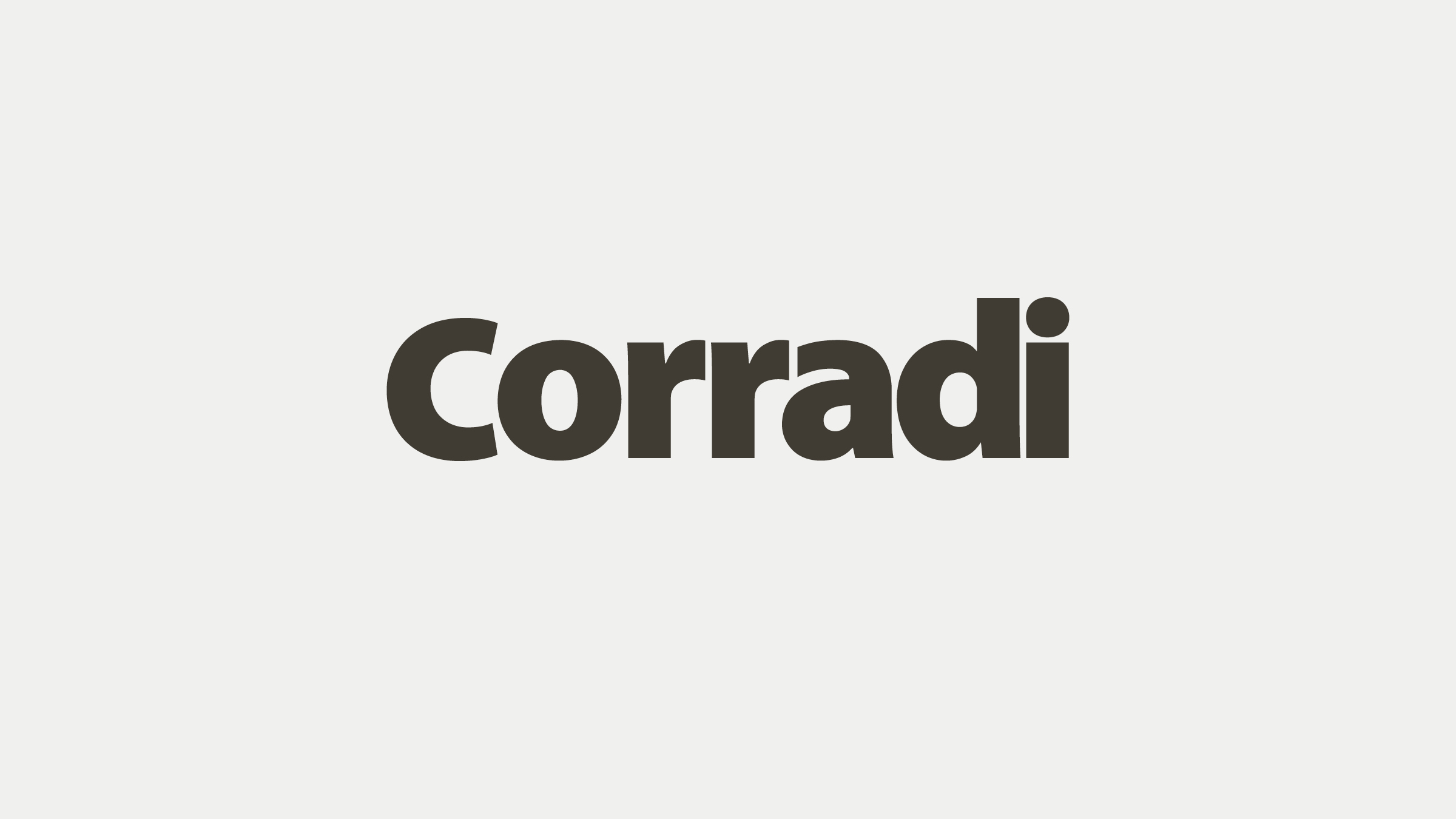 Outdoor living: the new frontier
With the traditional furniture market completely saturated, leading brands were starting to commission new outdoor collections to famous designers removing the boundaries between interior and exterior design. Corradi wanted to be play a role in this new wave. The company already had a strong network of independent dealers, their goal was now to attract more demanding partners such as architects and designers.

The new look
To reach its new audiences, Corradi had to modernise and refine its existing image, moving away from whatever was visually associated to the sun awning industry – bright colours, an emphasis on functional benefits, engineer-like tone of voice, cheap photography and products usually splashed across the catalogue's cover, often as 3D models.

The new identity wanted to be aspirational and sophisticated. The wordmark was simplified, the 'C' element removed, an international strapline Outdoor Living Space was introduced, the colour palette became a simple choice between off-white and off-black, and the product was yes depicted on the catalogue's cover, but in a more subtle way.
"Andrea managed Corradi's image during its most crucial stage of development – from a small family business to a global premium brand. His strategic thinking proved Andrea to be not only an excellent designer, but also a precious asset for the entire organisation."

Sully Briskomatis
Marketing Director, Corradi